Dear participant!
Here is some information for those registered for the Meråker Mountain Challenge running festival.
(This information letter is also available in pdf format in the
file download area
.
) 
Now, there are only a few weeks and days left until MMC 2023 kicks off. We are very excited and looking forward to welcoming many participants at Teveltunet! All distances will start and finish on Saturday, July 29th – with the possibility that some ultrarunners may also continue into Sunday morning 😊. We hope as many as possible will arrive on Friday, and that many will stay until Sunday. Accommodation options are plentiful, both at Teveltunet, in Meråker, and in Storlien. Everything is set for great experiences in Meråker on the last weekend of July!
Meråker Mountain Challenge (MMC) started in 2011, organized by Meråker til Topps with Hallgeir Martin Lundemo as the driving force, initiator, and jack-of-all-trades. Over the years, the event has attracted more and more partners and, most importantly, volunteers from the local community. Meråker til Topps aims to facilitate outdoor activities and experiences in Meråker's distinctive mountain nature, and MMC is a natural and important part of this.
MMC is a festival for people who love to hike and run in the mountains. For many, having a race number on their chest is an extra motivation, but most see MMC as a personal challenge and come to experience nature, community, and the joy of completing something they have trained for a long time.
Registration for this year's MMC has been very good, and based on previous experiences, we expect many more participants in the final weeks leading up to the start. Perhaps we will set a new participant record! It's very exciting and inspiring for us who work to improve and professionalize MMC, and who strive to make it a prominent mountain and trail running festival in Norway and eventually internationally.
This year, MMC has made many small and big improvements to make the experience even better for participants and their companions.
The activity at Teveltunet will be bigger, including a

pasta party

on Friday evening,

food and drink sales

on Saturday,

stands

throughout the weekend, and a

participant dinner

for the runners after the competition. We want Teveltunet to be an attractive place to be before, during, and after the races – also considering the supporters and families of the runners. We would also like to remind you that

Rypetoppenfamily park

is the closest neighbor 

😊

.

 

Note: The Pasta Party on Friday starts from 6:00 PM for a price of 195 NOK per person. Reserve a seat via

this form

(or use the QR code on the right). Drinks are sold separately, and for those interested in exciting beers, we can safely recommend short-distance products from the local microbrewery

Teveltunet Fjellbryggeri

.

We have launched a

new website

. Here, all information is available in both Norwegian and English. If you can't find what you're looking for, please check the '

Frequently Asked Questions

' section first, and if you still have questions, send an email to

info@mmctrail.no

. It may also be useful to follow our

Facebook pages

and

@merakermountainc

on Instagram.

We are expanding the range of distances, and this year we introduce a

100 km

race starting in Meråker. Thus, we offer seven different distances of 2, 4, 8, 21, 42, 70, and 100 km! And next year, we will also have a

100 miles

(161 km) distance with the start and finish at Teveltunet!

We have more sponsors and partners on board than ever before, which gives us the security to offer top service, great prizes, and memorable experiences for the participants – without fearing financial deficits. MMC is non-profit, but still needs to operate within its means, and our collaborators are crucial for us to dare to take new steps year after year!
But please note: It is also important that you as a runner are well-informed and adhere to some important procedures and deadlines. Here is the most crucial information you should take note of:
Bibs

and, if applicable, GPS trackers are to be collected at Teveltunet the evening before the race, starting from 5:00 PM and onwards, for participants in distances from 21K and above. For latecomers and those unable to attend Teveltunet the night before, it will also be possible to receive the bib/tracker upon arrival on race day. We will also bring all uncollected bibs to the starting point so that the last opportunity is to receive your bib there.

2K, 4K, and 8K start and finish at Teveltunet, and runners collect their bibs there on race day. For other distances,

transport is provided from Teveltunet

to the respective starting points. It is paramount that you arrive at the correct time to utilize this transportation. See attached table.

If you have special transportation needs that require arrangements, please contact us via email at

transport@mmctrail.no

. This applies, for example, if you require transportation between Meråker/Storlien and Teveltunet or if you prefer to board one of the buses at the municipality building in Meråker instead of at Teveltunet.

The

starting times

for the various distances are also given in the attached table.
More information, such as elevation profiles and course descriptions, can be found on the website under the menu item 'Distances'. For those who wish to download GPS tracks, updated GPX files are now available for download from our website.

The Meråker mountains and mires are demanding both physically and technically. It is not meant to be easy! There can be many reasons why the race doesn't go as planned. The weather can be challenging, the training foundation may be somewhat wanting, or you may sustain an injury that prevents you from reaching the finish as intended. If you drop out, it is important that you report this to the race management at phone number +47 917 67 548. Save this phone number in your phone so that it is easy to find if needed! It is also important to call 113 in case immediate emergency assistance is required. We encourage everyone to install the 'Hjelp 113' app on their phone for such situations. There is good mobile coverage in most of the course area.
The trails are very well marked! Clearly visible poles and trail markers are placed every 15-30 meters. Unless there is dense fog, it should not be a problem to follow the correct path without GPS or similar devices. However, NB: As always when entering the 'wilderness,' it is necessary to have a backup plan in case you stray from the trail. This could for instance be map and location services on your smartphone.
Finally, we would like to remind you that the longer distances, from 21K and above, have mandatory equipment requirements that runners must carry throughout the race. Detailed information can be found under Info/Equipment Requirements on the race website. If the weather forecast indicates the likelihood of bad weather, additional equipment requirements in the form of a 'Cold Weather Kit' may be activated. Specific information about this will be sent out no later than 24 hours before the start, so be attentive to emails from us closer to the start.
That's all from us in MMC Trail and Meråker til Topps! We wish you good luck with the final training period! And if you have any questions that you cannot find answers to through our website, please contact us via email at info@mmctrail.noif you need to engage in a dialogue with us.
Best regards from us in MMC Trail and Meråker til Topps!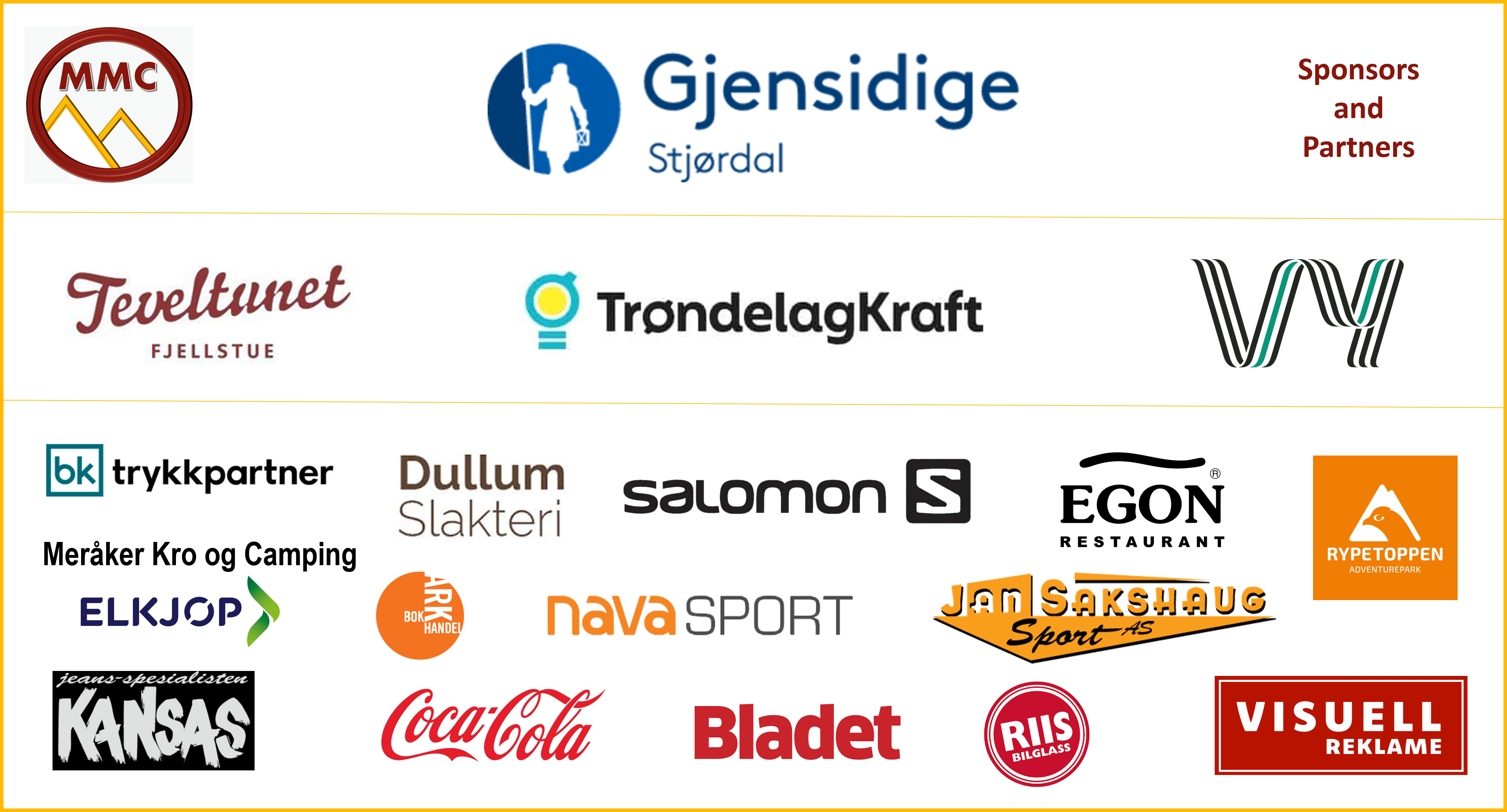 Transport and start information
Distance

Transport from Teveltunet

Starting place

Start

Notes

2K and 4K

-

Teveltunet

Between 12:00 and 14:00

Start whenever within this timeframe

8K

-

Teveltunet

12:00

Mass start for timing at 12:00. Participants can also start later, but without timing.

21K 
hikers

10:00

Angeltjønn cabin

From 11:00 onwards

Participants can start as early as 9:00 if they make their own way to the starting point. 

21K competition

11:00

Angeltjønn cabin

From 12:00 onwards

Rolling individual start. Timing begins when crossing the start line.

42K

09:15

Sulåmo

10:30

Mass start

42K 
dog race

09:15

Sulåmo

10:30

Mass start

70K 
hikers

05:30

Guddingsvika

07:00

Starts upon arrival at Guddingsvika.

70K competition

07:00

Guddingsvika

09:00

Mass start

100K

04:00

Meråker vgs

04:30

Mass start
And if you haven't figured out how to get to Meråker and Teveltunet yet, you can benefit from the information we have posted on Info/Transport on our website.
ITRA National League
 MMC is part of the ITRA National League Norway along with the following races in 2023:
Ecotrail Oslo; 31k, 50k, 80k

The Arctic Triple Lofoten Ultratrail; 12k, 24k, 48k, 90k, 165k

Ultrabirken Løp; 59k

Salomon Xreid Trollheimen; 136k

Oslo Bergen Trail; 95k, 192k, 515k
Dynafit Hardangerjøkulen Ultra; 34k, 35k, 95k, 100k
Hornindal Rundt; 38k, 42k, 72k
Blefjells Beste; 21k, 56k
Styrkeprøven Rett Vest; 45k, 60k
At MMC, all distances from 21K and above are included. To have a valid result in the ITRA National League, one must complete at least three races that are part of the league. So far this year, no one has achieved this, so keep up the effort! We also encourage other race organizers to submit their races!